In the future there is no disease. There is no war. There is no discontent. All citizens are complacent members of the Global Governance. But one summer is about to change everything.
Keeva Tee just turned fifteen. All of her dreams are about to come true. She's about to make the trip to Monarch Camp to be imprinted with her intended life partner. One day they'll have perfect kids and a perfect life. But in her happy, carefree life in the Ocean Community, something weighs on her mind. She hears whispers about "anomalies"—citizens who can't be imprinted. No one knows what happens to them, but they never seem to come back.
As the truth slowly becomes clear, Keeva realizes that her reality is a living nightmare. In order to survive, she must be prepared to rely on an inner strength that she never knew she had. If she fails, everyone and everything she ever cared about is doomed.
Sample Chapter Download!
This free download is available in PDF format. Enjoy!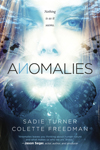 PDF